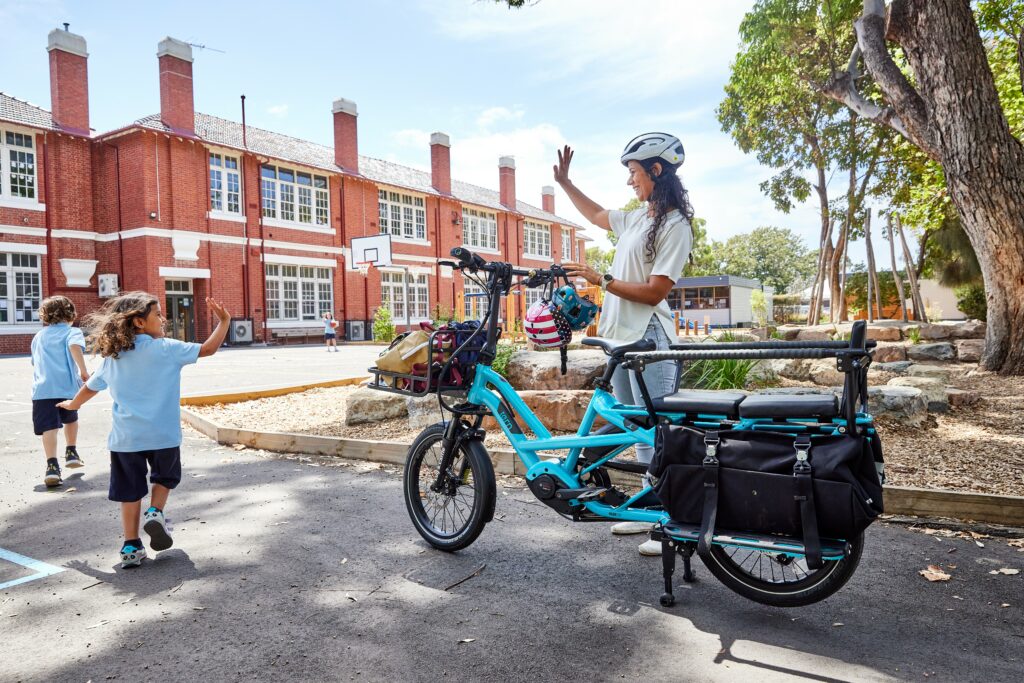 MELBOURNE, 31 October: Australian eBike start-up Lug+Carrie has announced a partnership with mobility and traffic expert, Intelematics to improve the safety and efficiency of its riders using an active transport app.
Founded in 2019 by brothers Ben and Dan Carr, Lug+Carrie is a premium e-Cargo bike subscription business that makes everyday use of eBikes easy and accessible to everyone. The company operates in Melbourne, Sydney and Brisbane.
Lug+Carrie subscribers now benefit from access to Intelematics' ridePlan application, which is personalised to each user with pre-defined preferences. ridePlan is a journey planner powered by a unique safety algorithm to help riders find quieter, more efficient, and more bike-friendly routes. The safety algorithm accounts for road infrastructure, such as bike lanes, and different road surfaces. It provides turn-by-turn navigation, voice guidance and the option of choosing the quietest, flattest or fastest route.
The app was recently trialled by mums and dads at three inner-city primary schools in Melbourne. Forty riders used the app to conduct school drop-off and pick-ups over a four-week period. The trial was organised as part of Merri-bek City Council's Ride and Stride school program to encourage safer, faster, and healthier school runs.
"Safety is paramount for all of our riders, but especially the mums and dads who choose one of our eBikes as a healthier way to transport their kids to and from school," says Dan Carr, co-founder of Lug+Carrie.
"Safety is also a barrier for new riders looking to buy or try an eBike. By partnering with Intelematics and introducing ridePlan, we provide an extra level of reassurance which removes this barrier and makes navigating our busy city and suburban streets easier and safer," adds Dan.
The trial, which ran from July to September, incorporated Lug+Carrie eBikes and the ridePlan app to make the switch from cars to bikes easier. Seventy-five per cent of participants said they typically drove their kids to school, but the trial exposed them to the potential of doing the school run by bike. Merri-bek is now hoping to roll out the trial to more schools in 2022.
ridePlan is part of Intelematics' Mobility as a Service platform, Omniway, which helps governments, businesses and consumers improve how they travel. The platform builds on the success of the arevo trip-planning platform, developed for RACV.
Lug+Carrie is the first enterprise to go live with ridePlan, demonstrating a shift in behaviour towards healthier and more sustainable transport alternatives.
"Sparked by the pandemic, we have seen a rise in the use of active transport across Australia as people look for healthier alternative forms of transport. ridePlan is a step towards helping people use active transport effectively to get from place to place – faster, safer and more sustainably," says Nick Marks CEO at Intelematics.
"Our partnership with Lug+Carrie is an example of the positive impact technology can have on people's lives," Nick adds.
Lug+Carrie has 800 eBikes and 1,000 customers across Australia. Their bikes are available in Melbourne, Sydney and Brisbane with plans to launch in Canberra before the end of the year. In September, the company also announced plans to launch in the United States.
Source: Intelematics