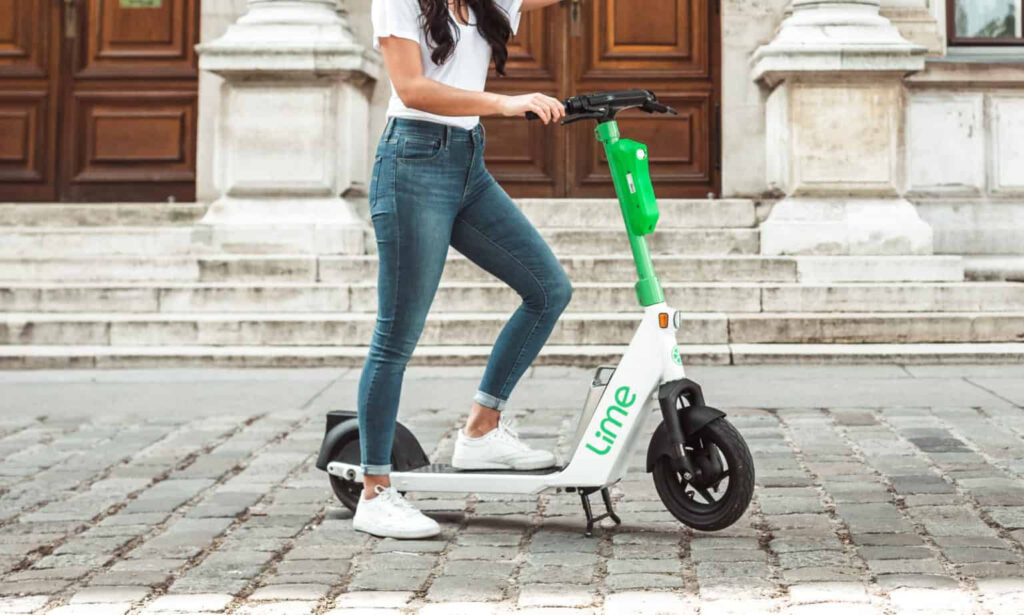 Shared electric vehicle company Lime and mobility app Whim's collaboration continues as Lime's white and green e-scooters are added to the app in Helsinki. Earlier this summer they were launched on Whim in Antwerp, Belgium. Today you can find all Lime e-scooters on the streets of Helsinki in Whim in addition to the many other modes of transport the app offers.
The pandemic has changed our travel habits drastically and forced us to rethink how we move around every day. Alternative modes – especially micromobility options like e-scooters and city bikes – have become essential in ensuring we get to our destination on time and the increasing amount of options has made sure there is always a vehicle to choose from. The demand is growing constantly, and especially in Helsinki e-scooters are one of the most used forms of micromobility in the summer months. The mobility app Whim already offers multiple different providers of e-scooters for its users, and now another has been added. The recognisable white and green Lime e-scooters have been added to Whim's offering to help Whim users plan, book and pay for their trips even more easily.
This eagerly anticipated collaboration between Lime and Whim was first launched earlier this summer when Lime e-scooters were added to Whim's offering in Antwerp. Now that Helsinki is live as well, the next step will be to launch in Switzerland in Basel, Winterthur and Zürich. For people in Helsinki, this launch means there are now three brands of e-scooters to choose from when cruising on the sunny streets of the Finnish capital, all under one app. The collaboration also opens new possibilities for further additions to the app as well as an easier way for users to move around on their trips. By using Whim, they do not have to download a different app or buy new tickets every time they go to a new city but can use the same app wherever Whim is available.
For Whim, Helsinki has been an excellent place to test the app, get feedback from the users and make it exactly what they need to navigate the city where the existing infrastructure and modern legislation support public and shared forms of transport very well. According to a recent data analysis, public transport users in the Helsinki region choose multimodal travel chains most often. The data shows that public transport users frequently combine micromobility options with public transport. For example, 30.5% of users combine it with e-scooters*. This shows that bringing micromobility options to the users has increased the utilization of public transport as well as helped solve the first/last mile problem.
"Covid has forced us all to think about how we move around, and micromobility options clearly respond to a need that might not have been there before. A few years ago, options like e-scooters may have been a fun, cool thing to use, and while they still are both of those things, they are also a way for our users to solve the dreaded first and last mile problem of getting to their final destination from the public transport stop. They have become essential, and we are glad that we can offer more options for our users to choose from and through this reduce the amount of private cars on the roads," says Jarkko Jaakkola, Area Manager Finland and Baltics at MaaS Global (Whim).
"Whim has become a go-to app for city residents and visitors on the move in Helsinki. We're delighted to be launching our partnership to offer even more sustainable and safe transport options for Whim's users, as we continue on our journey to create people-first cities by encouraging more people out of cars. Riders in Helsinki have embraced shared e-scooters, and we recently launched our latest Gen4 model in the city to cater to this demand. Our new Gen4 offers a smoother and more sustainable rider experience, while decreasing street clutter and promoting safety, and we're sure Whim users will enjoy the multiple benefits they have to offer," added Fredrik Timell, Senior Public Affairs Manager in the Nordics for Lime.
*Voi/Whim data analysis 2022
Source: MaaS Globa/Whim