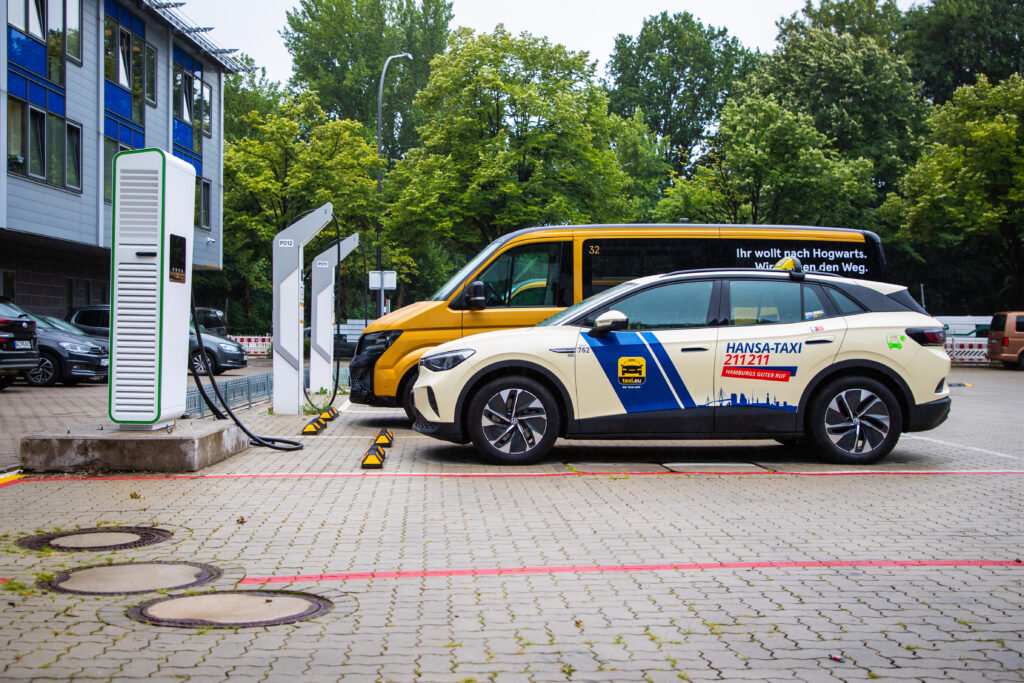 Earlier this summer, on the 11th of July, the ridepooling service MOIA and the taxi agency Hansa-Taxi have launched a cooperation for shared charging infrastructure, creating synergies for a successful traffic turnaround. During a four-month pilot project, ten electric taxis from different members of Hansa-Taxi can use MOIA's charging infrastructure at the hub in Horn.
The five participating taxi companies have round-the-clock access to one of the fast-charging stations. The charging time is about 20 to 30 minutes. A charging app set up for the pilot project shows taxi drivers whether the charging station is available. Authentication for the charging process and billing also take place via the app.
Jens-Michael May, CEO of MOIA Operations: "Since 2019, MOIA has gained extensive experience in setting up and operating a decentralized charging infrastructure. It is important to us to contribute our expertise and infrastructure in order to create synergies for a successful traffic turnaround through joint usage. We are pleased to be able to offer a charging option for Hamburg's electric taxis as part of our cooperation with Hansa-Taxi and to jointly advance the electrification of transport."
Thomas Lohse, CEO of Hansa-Taxi: "The future of Hamburg's taxi fleets is electric. Promoting and accelerating the traffic turnaround among our members is a central concern of Hansa-Taxi. The joint pilot project with MOIA is another building block on the road to broad electrification of Hamburg's taxi fleets."
After the four-month test phase, MOIA and Hansa-Taxi will jointly evaluate the pilot project. If all parties involved rate the implementation and progress as positive, the partners plan to expand the cooperation and integrate further functions, such as a reservation option for the usage of the charging stations.
Among the electric taxis are also three accessible taxis of the company Nissen Taxen GmbH / Rolli Express, which can use the charging infrastructure of MOIA as announced in the scope of the project "Future Taxi" of the Hamburg Authority for Transport and Mobility Turnaround.
Source: MOIA