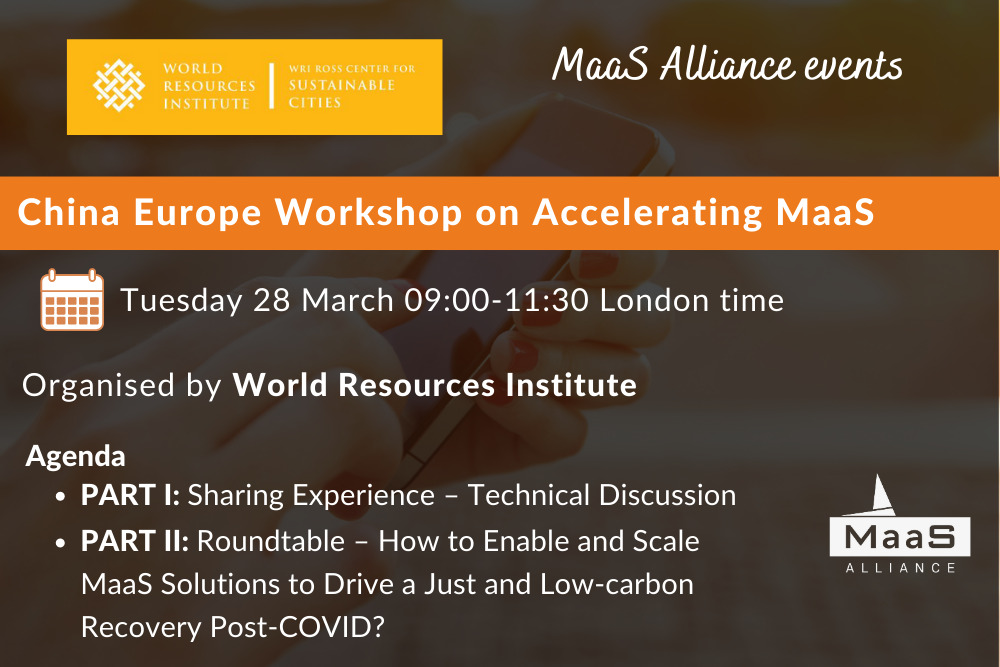 The MaaS Alliance will co-host a workshop with World Resources Institute (WRI) titled "China-Europe Workshop on Accelerating Mobility-as-a-Service (MaaS) to Drive a Just and Low-Carbon Transition in Cities Post-COVID".
The workshop will take place in WRI London office, 9:00-11:30 London time, Tuesday, March 28th, 2023. 
The purpose of the workshop is to share experiences with a view to accelerating a net-zero and equitable MaaS system and the relevant shared mobilities in cities. Front-line MaaS practitioners and leaders in China and Europe are invited to share their experiences and discuss opportunities and solutions.
The workshop will be divided in two parts. The first part will be focused on more technical aspects, while the second part will engage leaders from business, philanthropic, and academic to discuss how to enable and scale MaaS solutions to drive a just and low-carbon recovery post-COVID.
The MaaS Alliance will chair a roundtable session.  
The workshop will be held both online and onsite. Find the agenda and the link to join online!