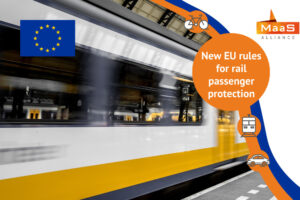 Starting Wednesday 07 June, new EU rules for rail passenger protection have taken effect. As of now, passengers are better protected if their travel is disrupted, and railway companies must ensure a trouble-free travel experience for passengers with reduced mobility. An obligation for rail companies to share real-time traffic and travel data also paves the way for more competitive ticket offers.
Infrastructure managers and railway undertakings will now have to provide real-time dynamic traffic and travel information, not only to railway undertakings, but also to ticket vendors and tour operators. By increasing access to railway undertakings' reservation systems, new rules will also enable vendors and operators to prepare more innovative offers, such as bundled tickets covering different carriers, and a combination of connections not offered until now.
Moreover, the new framework includes several new provisions to make rail more practicable for persons with disabilities or reduced mobility. Lastly, the new set of rules also ensures dedicated places for assembled bikes, making them mandatory for all new trains ordered after 7 June 2025, as well as for trains undergoing major upgrades from this date.
The new rail passenger rights framework follows a 2017 Commission proposal and was adopted on 29 April 2021 (Regulation (EU) 2021/782).
Source: DG MOVE – European Commission. You can read the whole article here.