The MaaS Alliance is happy to announce a new member has joined our family: FLOYT Mobility. 
FLOYT is an organisation that aims to free mobility from complexity for everyone. FLOYT uses its website and apps (billiger‐mietwagen.de, CARIGAMI.fr and FLOYT.com) to provide users with active travel options to get around in all tranquillity. FLOYT Mobility app offers classic car rental booking at home or at holiday destinations as well as contactless car rental / car sharing. 
FLOYT offers its customers the most individual mobility match from the rental and shared industry in a single app, and is a market leader in Germany and an important player in other European markets. The company was founded 2003 and employs 170+ team members in Germany and Spain. FLOYT considers the network of the MaaS Alliance as ideal to bring in their experience, to exchange with other members on best practices for user experience solutions, and to explore new markets.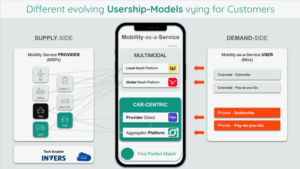 The MaaS Alliance is delighted to strengthen its forces and work together with FLOYT to place the User as backbone of the mobility system: by welcoming FLOYT mobility, we will highlight how easy and convenient using cars is compared to owning them. This represents a step forward towards our mission: an inclusive, open and greener mobility to improve the quality of our cities with users and their needs at the centre. 
Check FLOYT video to know more about their work.