Skip to content
John Nuutinen, CEO, SkedGo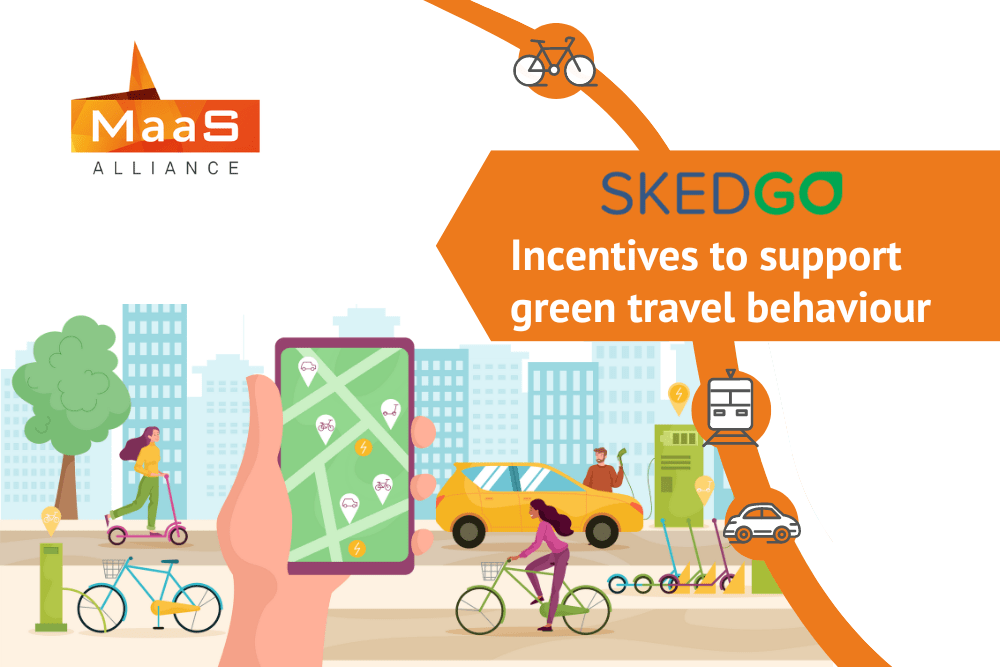 Incentives are a powerful tool that can and are being used to encourage sustainable travel behaviours.
Cities such as London have tried punitive methods to boost modal shift. Congestion charging and other forms of taxation have led to some changes in behaviour. However, incentives are more likely to win over the general population, as they deliver direct benefits to users and result in a meaningful transition towards sustainable transport. Fundamentally though, societal changes in behaviour – driven by incentives – need to be monitored, measured and intelligently analysed for widespread modal shift to be realised.
The role of measurement
Measuring traveller behaviour is key to clarifying whether MaaS is meeting its objectives, and understanding where, when and how incentives can be applied to drive change. In our recent MaaS Alliance webinar, we discussed real-world examples of the difference smarter measurement makes.
Swiss rail operator SBB used project data to analyse and track the behaviour of travellers and the associated environmental impact using its SBB Green Class programme, which combined fixed-price rail travel with shared electric car and e-bike usage. Green Class has grown from a pilot in 2017 to becoming a renewed electric car partnership in 2022. Swiss city Zurich also conducted research that revealed granular data on vehicle location, which enabled the analysis of the diminishing return for fleet density and utilisation rates, and therefore provided the understanding that travellers preferred docked transport modes.
Measuring MaaS can therefore enable and inform incentivisation programmes. It is proven that psychology plays a major role in behaviour change, and therefore understanding and measuring how travellers interact with mobility options can help shape MaaS incentive programmes in different regions, catering to different people, circumstances and needs. Travellers with access to timely information, and good, trusted service provision, combined with incentives, are more likely to adopt MaaS. In common with marketing and retail – as seen with Spotify and Amazon – MaaS will need to use personalisation tools to shape or incentive programmes in order to ensure group and individual behaviour change.
A range of data sets exist today that enable MaaS operators to understand the traveller; these include application programming interfaces (API), algorithms and open banking data; together, these provide insight into mobility behaviours, travel types and emissions. A reward system can then be created to nudge behaviour away from private car usage or sustain MaaS usage.
Sustainable travel as an incentive
Incentivisation of MaaS usage has now become essential to reduce carbon emissions. Transport produces 25% of the world's carbon emissions, and 60% of journeys by private car in England are one to two miles. Transport usage and behaviours have to change, not only for the sake of the planet but also to rebalance influence in society. The EU Transparency Register revealed that the energy and transport industry is a dominant lobbyist and that during the "dieselgate" scandal, lobbyists from the automotive sector met government officials more than once every two days.
Incentives that benefit the wider society and the environment should therefore not be overlooked. The Incentivised Sustainable Mobility platform (ISUMO) is a business model based on mutual benefit. ISUMO calculates the environmental footprint of journeys and provides rewards points and discount coupons that are accepted by businesses, thus linking awareness and sustainable mobility with benefits. The German city Munster claims to have saved 127,000 kg of CO2 emissions, planted 4,000 trees and built four wells as a result of travellers using the "Münster bewegt" MaaS app. Like ISUMO, "Münster bewegt" offers discount points to travellers. Local retailers also benefit from it.
Beyond financial incentives
To date, MaaS has mostly relied on financial incentives to influence behaviour in modal shifts. We believe that the future of MaaS will require non-transport or financially motivated incentives offered along a passenger's expected journey, tailored to personal preferences, and driven by intelligent data.
These services can, indeed must, include incentives linked to activities such as retail purchases, broad based tourist expenditures or any service that adds value to MaaS subscriptions. This important step recognises the nature of travel, which ultimately is driven by the human desire to move and participate in activities.
Travellers and decision-makers
Measuring the performance of MaaS provides benefits to travellers but also policy makers. If civic bodies understand the traveller, then resource allocation can be streamlined and improved. This allows governmental bodies to meet their individual objectives of reducing CO2 levels and encouraging active travel. Public sector bodies define the landscape that MaaS operates in through policy and regulation. In most cases, MaaS requires public subsidy. A systemic approach to the design, development and deployment of MaaS is therefore needed to ensure MaaS operators and the public sector deliver solutions that travellers will adopt with little or no friction. This approach is vital as MaaS is complex: there is a multitude of moving parts – which are both barriers and opportunities.
MaaS has an important role in reducing transport carbon emissions. A systematic way to measure the effectiveness of MaaS and to use that data to provide the right incentives will benefit travellers of now and the future.