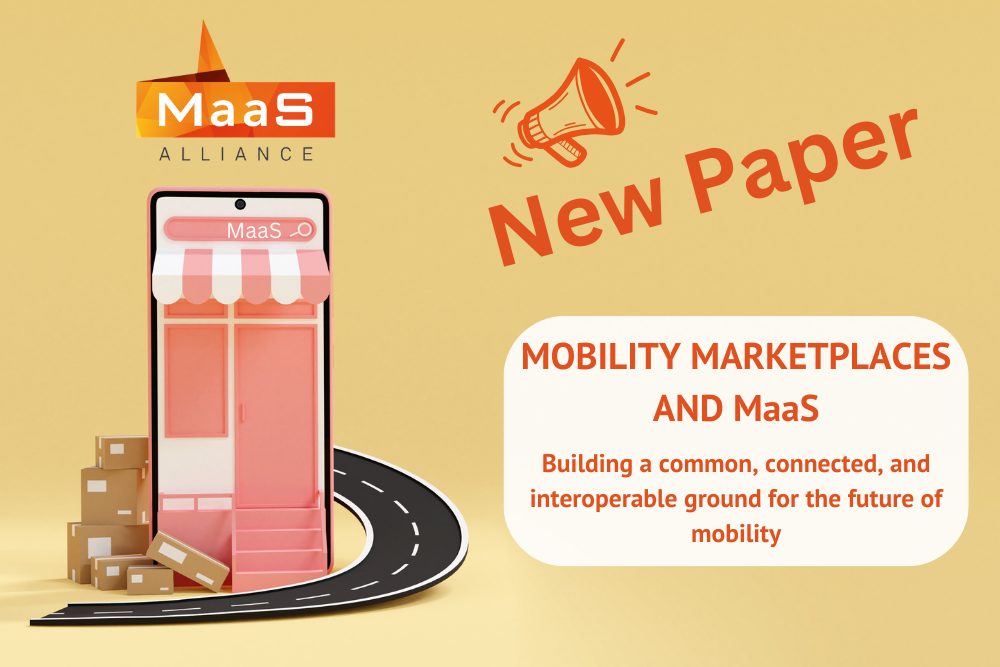 To open the week in which the Urban Mobility Days will attract institutional representatives and experts of urban mobility from all over Europe to Seville, the MaaS Alliance is happy to share yet another interesting white paper on mobility marketplaces and their role for MaaS.
Mobility as a Service (MaaS) is the integration of various forms of mobility into a single multi-modal mobility service. Its success relies on access to data produced and shared by mobility stakeholders. Mobility marketplaces provide access to this data. They are platforms where data providers and data consumers trade, exchange, or monetize data assets. These are datasets, data services, and Application Programming Interfaces (APIs).
Mobility marketplaces provide a setting where:
Data providers can promote their assets and share, license or sell these assets,
Data consumers can discover, access, and use these assets to address their specific needs.
Both data providers and data consumers build interactions within marketplaces. Such interactions depend on the governance and operations setting of marketplaces.
Marketplaces have three core building blocks:
a catalogue of assets,
a user authentication system,
a framework for value exchange.
They can also rely on option features such as payment integration or tools built for data assets.
It is important that mobility marketplaces are interoperable within the MaaS ecosystem. Interoperability can be between data assets, marketplaces, or both based on local regulations.
There are three main business models for marketplaces: non-commercial, commercial, and hybrid. It is the biggest differentiation factor between mobility marketplaces.
On the relationship between mobility marketplaces, data spaces and National Access Points:
Mobility marketplaces are a building block of data spaces as they offer two of the main features of data spaces,
National Access Points (NAPs) are mobility marketplaces characterized by their national coverage and non-commercial business model.
Marketplaces are essential for MaaS, but their success will depend on:
Their interaction with NAPs and how they define their differences in added services,
Their capacity to refine and clarify their business models, governance, and operations,
The interoperability of their chosen technology, standards, and interfaces.
The MaaS Alliance recommends that public and private organizations align their perspectives on:
data assets sharing,
the definition of quality for data assets, its qualification, and its funding,
the control of data assets
We could very well envision a world where:
NAPs are public-owned mobility marketplaces for data assets that are not sensitive and shared under open data licenses,
Private mobility marketplaces offer dedicated data assets and services to stakeholders in the MaaS ecosystem.
The following authors contributed to this paper:
You can download the paper following this link.