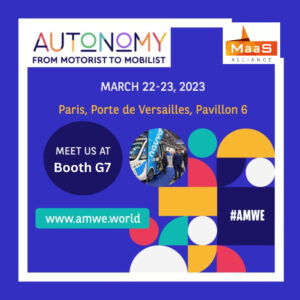 New MoU signed 
The MaaS Alliance is pleased to announace that a strategic partnership with the Autonomy Mobility World Expo 2023 (AMWE23) has been established. It will be based on cooperation via the Autonomy's Knowledge Platform and, potentially, with the Autonomy City Summits. This agreement defines the cooperation between the two parties for 2023. It will set the path to ensure the best level of cooperation and visibility of the MaaS Alliance during the AMWE23. 
The AMWE23 
The Autonomy Mobility World Expo is the annual gathering of international policymakers, institutions, NGOs, corporations, companies, and start-ups focused on sustainable urban mobility solutions. It welcomes more than 200 exhibitors, 300 speakers, and 8.000 participants every year in March. 
The 7th edition of the expo will take place on March 22-23, 2023, in Paris, Porte de Versailles Pavillon 6. 
MaaS Alliance will participate in the event : don't miss it out and meet us in Paris on 22-23 March 
The MaaS Alliance will meet all interested parties and friends at booth G7: make sure you pass by and say hello!  
Are you keen to deep dive in the MaaS topic? Join us for the discussions and hear out about the latest trends. Roelof Hellemans, Secretary General, will be moderating three panels and will take part in one of the workshops (find out more here): 
We are looking forward to meeting you in Paris! 
Follow all the latest updates on our Twitter and LinkedIn channels.