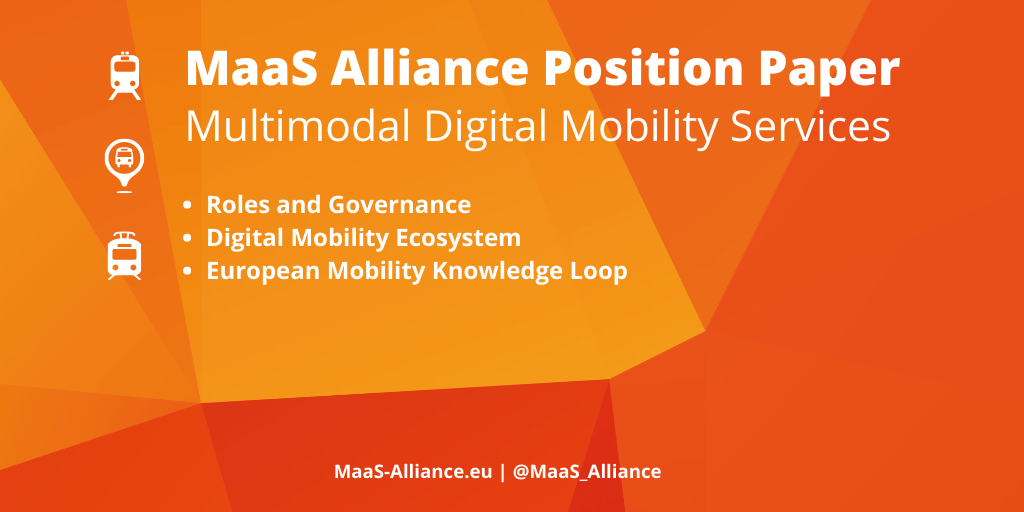 The MaaS Alliance has just published a position paper on Multimodal Digital Mobility Services (MDMS). The MDMS initiative represents an opportunity to align and collaborate on the Digital Mobility Environment in Europe. With this positioning paper, the MaaS Alliance wants to inform the European Commission about the importance of creating the appropriate "digital" as well as the suitable "governance" frameworks to become the backbone of the future Mobility. The imbalance between the reality of the digital economy and the inertia due to the lack of clear frameworks across mobility services needs to be addressed thoroughly.
The MaaS Alliance believes that Public Authorities should take the lead in working on the deployment of MaaS to facilitate the required outputs in such a way that they can fulfil the public responsibilities. Setting the correct regulation is required so that all Mobility Service Providers – public and private – connect and operate with the same rules.
In this paper, the MaaS Alliance focuses on :
Roles and Governance: public responsibilities and governance for mobility management
Digital Mobility Ecosystem: account-to-account interoperability and central regulation
European Mobility Knowledge Loop: accessibility and liveability
To make the MDMS successful, alignment between public and private actors is needed. This entails facilitating the dialogue between regulators and mobility services providers, so that an optimised framework is built. The MaaS Alliance Position Paper on MDMS highlights some key points that public authorities should take into account when dealing with transport multimodality and interoperability.
Access the Position Paper